Six houses demolished after fire
08/08/2007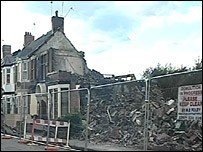 Six houses in a row destroyed by a fierce fire which spread from a joinery workshop have now been demolished.
Emergency services say six more homes may also have to be knocked down after Tuesday's blaze in Maindee, Newport. Marlborough Road residents began returning to their homes on Wednesday night after 100 were evacuated. Electricity has also been restored to 250 homes after the fire reached a substation, although the gas will remain cut off until Thursday.
A total of 14 homes - one of which contained three flats - were damaged by the fire. Nine were gutted, and five more were affected by heat and smoke.
Gwent Police lifted street cordons during Wednesday evening, but said officers would remain in the area. People whose homes have been demolished have been given advice on alternative accommodation.
The blaze broke out at about 1445 BST on Tuesday at the Limebright Joinery and took several hours to bring under control. It quickly spread to the terrace of houses and then to the electricity substation and main south Wales to London railway line behind them, cancelling some train services and causing delays to others.
Gwent Police said the fire began in a wood chip burner in the joinery and was not being treated as suspicious. Maindee councillor Christine Jenkins said it was lucky no-one was injured. "We've had a major fire. We've got no injuries, no fatalities, we're lucky and that is the way we have to look at it. A fire this size and to have no injuries with the population we have in Maindee, we're very lucky indeed," she said. "I know it's not nice for people who've had their homes damaged by fire, it must be awful. But there is no loss of life and no injuries."
Ms Jenkins said the destruction of their homes would hit people hard but wanted to "reassure them that they will be looked after". "Newport Council will re-house them in temporary accommodation if they have got no-one to go back to but there is going to be a lot of heartache," she said. "There is going to be 12 people who are not going to have a home to come back to. "We will have experts to advise them what to do next with insurance claims, and what they are going to do for clothes and food."
Ashad Miah, 26, who captured the fire on his camcorder, said: "I heard all this noise, and then the sirens of the fire engines, so I walked out of the house and saw a lot of smoke billowing from the back of the houses in front of mine. "I grabbed my camcorder and started recording, and the fire just kept spreading. "There were loads of bangs and noises - windows shattering and pieces of wood and plastic landing on the street. People in the road were having to duck out of the way.
"When I stood outside my house I could feel the heat from the fire and that's when I started to feel really scared, especially because my six-week-old daughter was in the house and I thought 'what if it spreads?' "The heat was really intense and the smoke was suffocating. I've never seen anything like it in my life. "I've known people on this street for more than 20 years and their homes have been totally destroyed by this fire - they've lost everything, and I don't even think some of them are insured."
Another resident, Colin Price, was among those asked to leave their home. "I was surprised to be evacuated but when I could smell the smoke and smell the fumes, I though 'yes perhaps we ought to'. "I suppose we can thank our lucky stars nobody's been injured."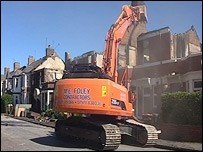 Alex Healy, who worked in a different joinery workshop around 15 to 20 houses away from the one which caught alight, said evacuees were sharing jokes in the street initially. "But within 20 minutes of being on the street and watching it escalate there were more serious attitudes going around, nobody wanted to laugh and joke then. "At first we thought it was just a fire but then you realise it is people's lives and you see people holding each other in the street. "People just had to stand and watch and hope their house and their livelihoods did not go up in flames."
Electricity company Western Power Distribution said it would take "some time" to restore power supplies.