No risk assessment before Fire Service College blaze
21/01/2010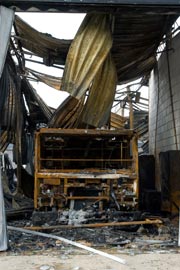 The Fire Service College had not carried out a fire risk assessment under the Fire Safety Order at the time of last year's fire which destroyed 11 fire engines and the appliance bay they were kept in.
In response to a request under the Freedom of Information Act, the college has revealed that the last fire risk assessment on the part of its site which includes the appliance bay was in December 2004 - under the previous Fire Precautions (Workplace) Regulations 1997.
An investigation after the fire in May 2009 by the Crown Premises Inspection Group - the enforcing authority under the Fire Safety Order - identified the lack of a fire risk assessment for the premises. It also confirmed that compliant assessments under the Order had been in progress across other parts of the site.
The appliance bay is part of an approximately L-shaped building which comprises stores, the facilities management unit and offices at one end, with a 26-bay fire station, breathing apparatus charging and maintenance facility down the central axis, and syndicate rooms at the other end.
Commenting on the absence of a fire risk assessment, a Fire Service College spokesperson said:

"The Fire Service College was in the process of conducting a comprehensive series of risk assessments across the whole site, at the time of the fire. Fire risk assessments under the Fire Safety Order have now been completed for all buildings on the site, and the Fire Service College is now satisfied that it has carried out its obligations under the Fire Safety Order."
The fire destroyed 11 fire engines and cost an estimated £1.3m