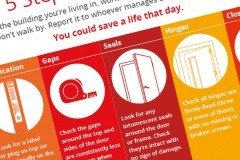 10 years since the introduction of major new fire safety legislation, fire door safety campaigners are warning that those in charge of fire safety in buildings are still not taking their responsibilities seriously enough.
The warning comes in the run up to Fire Door Safety Week, a national award-winning campaign which aims to raise awareness of the critical importance of fire doors in saving lives and protecting property.
"We need to up the ante on fire door safety. The rates of fire deaths and casualties are reducing, but there are still an average of 25 fatalities or injuries from building fires every day.  Fire doors are a crucial first line of defence in many of these fires, and yet they remain a significant area of neglect. Fire doors are often the first thing to be downgraded in a specification, mismanaged throughout their service life, propped open, damaged and badly maintained.
"10 years on from the new law being introduced, fire door failure is still a consistent feature of prosecutions under the Fire Safety Order. Just this year alone we know of hundreds of thousands of pounds of fines and prison sentences for people who have failed to meet their fire safety responsibilities. We're finding dodgy fire doors in buildings of every type – from council flats to care homes, hospitals to hotels, private rented homes to publicly listed company HQs.
"We want to see organisations and building owners in every sector pledge support to Fire Door Safety Week and take action today to check their fire doors."
Click on the link below to view a 5 Step Fire Door Check infographic.